Challenge
Prepare a new tourism site with renovations to be opened to the general public in May 2023 and focusing on the themes of nature, culture and leisure  

Increase festival and cultural events around the site aimed at tourists and the region's inhabitants.
75%
increase in usage since RATP Dev took over the contract
1,200
meters in length with an ascent of 655 meters
Solution
Breathtaking views across Geneva and the Lake await visitors at the top of Salève, a mountain in the Alps affectionately known as the "Balcony of Geneva". The ascent takes four minutes by cable car.
Since 2013, the service has been maintained and operated by the Salève Cable Car Company, a group of businesses led by RATP Dev (51%) alongside the Geneva Public Transit Authorities (47%) and COMAG (2%).
Under this new management, passenger service at the cable car has been significantly updated including digitized services, a webcam, an online audio guide and a network of partnerships guaranteeing the best fares for locals.
In addition to the hiking trails and nature enjoyment areas, the cable car has teamed up with the restaurant to field combined lunch offers during the week and sundowner cocktail offers from the most impressive spot on Lake Geneva.
In 2014, the service was extended to cover the winter period, to allow the region's residents to enjoy the site's activities throughout all seasons. With its mini golf course, snow-trekking excursions and special themed evenings in the panoramic restaurant, last winter the site even revived one of its original attractions, dating back to 1932 - the ice rink! Such initiatives have been a great success, with visitor numbers up 48% since 2013.
The cable car service will be suspended at the end of 2021 for 20 months to offer the stations a major facelift. Technical facilities renovated in 2014 will be enhanced by the station renovations, one of which, a local heritage spot, was opened in 1932. The operation became necessary to improve quality of reception and above all to diversify the leisure and cultural offering.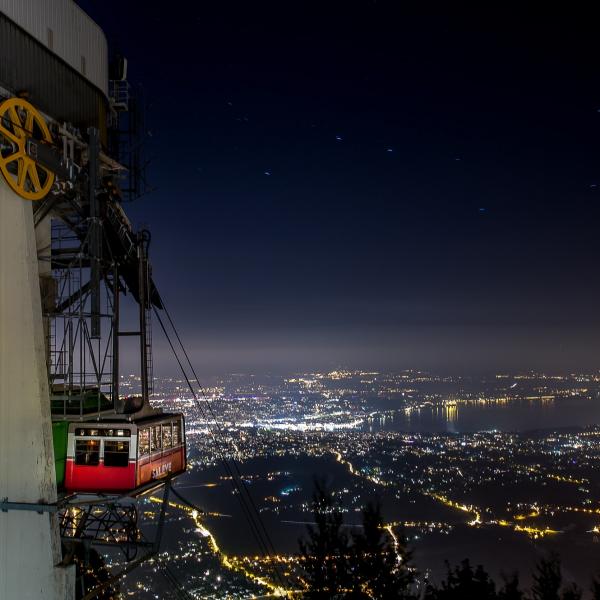 "Ascending Salève in the cable car is a must for visitors to Geneva. The view from the summit will blow you away!"
Philippe D.
French customer